Google
AdWords
Google AdWords Advertising
Control Cost Per Click (CPC) While Reaching Targeted Clients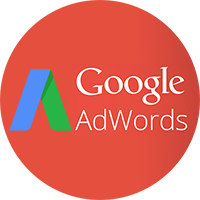 Reach potential clients who are actively looking for information about your products and services online, and send them directly to the product and services that your business has to offer. These clients are more likely to secure a deal or come back to your website again as you have what they are looking for. With Google AdWords cost per click (CPC) pricing, it's easy to control your campaign costs, paying only when people click on your ad. This is how it works, you create advertisements and choose keywords (words or phrases) related to your business. Your ads will appear on Google and when people search on Google using one of your keywords, your ad may appear next to the search results, hence the name AdWords. Advertising to an audience that's already interested in what you can offer brings you more sales leads. When the visitor clicks on your Google AdWords Advertising to make a purchase or to learn more about you, you can either capture their data and get conversions or display what they want to see and lead them to even more related informations. You can also get them to sign up for your enewsletter, emailer or for downloads of ebrochure or coupons for future updates or promotions. Geniune and quality control over the content will give your visitors the impression that there is something that your business can offer either now or in the near future and will return to your site.
Right Context for Your Target Visitors
Geotargeting Your Customers for Your Google AdWord Advertisement
Google's contextual targeting technology automatically matches your ads to web pages most relevant to your business. You can also have greater control with placement targeting to hand-pick specific sites or sections of sites you want your ads to appear on. Geotargeting means you can set your ads to appear only to people searching in a particular state, city, or region and are more likely to use your service or products. Define a custom area to target (Geotargeting) around your business. Relevant adversiting campaigns tend to receive more clicks and appear in a higher ranking, and brings you the most success. Eventually you can channel more paying customers to different areas of your business and the money you invested on Google AdWords advertising will be well-spent.
Only Pay for Results
Set Your Budget to Avoid Over Billings
There's no minimum spending requirement for Google AdWords. You can choose to set up a daily budget of five dollars to a minimum cost of ten cents as the cost per click for your Google Adword. ResultIT helps you make informed decisions, analyses which keyword has the best traffic and maximise your marketing campaign budget. You only pay when someone clicks on your ad, not when your ad is displayed and we help you work out the best campaign for your Google Adwords Advertising.
What is Quality Score?
Affects Your Pay-Per-Click Rate
A Quality Score is calculated every time your keyword matches a search query or when your keyword has the potential to trigger an ad and this can affect your cost-per-click budget. In other words, the higher your Quality Score is, the lower your costs and the better your ad ranking will be.
Good Landing Page Design Sells
A good landing page design creates a trust in your visitors to with the positive experience upon clicking on YOUR AdWords ads and this can mean paying customers.
A high landing page quality score can affect your Google AdWords account in the following ways:
Decrease your keyword cost per click (CPC)
Increase your keyword targeted ad ranking on Google's content network
Improve your placement targeted ad ranking
Relevant and original content, transparency, and navigability affects how Google determines the quality score of your landing page. Your Google Adword Ad should let visitors easily find what it promises. It should be linked to the page with most useful information about the product or service in your ad on your website.
Relevant plus Original Content
Direct visitors to the page where they can buy the advertised product and most relevant to what they are looking for, rather than to a page that displays description of other non-related products. A landing page designed with lots of relevant advertisements or links to more relevant pages scores as a page with original content. It should depict similar look and feel to your parent website and redirects to it. Your landing page should be hosted on your parent website. Good SEO copywriting is important marketing factor for your campaign.
Transparency for Your Visitors
Make sure you clearly define what the nature of your business is. Provide genuine information and honour deals and promotions on your ad. Do not attempt to install any softwares or download anything to the visitor's computer without permission and you might get a complaint which Google will either ban or determine your landing page with low quality score and drop your ranking. Allow your visitors a certain amount of information or access to your site's content without requiring them to register. Alternatiely you should provide a preview of what visitors will get by enterting their information and how these information will be used.
Navigability of the Landing Page
Good navigation is also part of good landing page design. Here's how you can turn these visitors into paying customers. Make it easy for them to find what they're looking for with short and simple ways to purchase or receive the product or promotion in your ad. Avoid the use of pop-ups or other obtrusive elements on your ad. The loading speed of your landing page plays a part too.